This is the first in a series of posts that will describe how light and optical technologies are playing an important role in modern biological investigations. This post is about fluorescent proteins, their history and some applications.
It is often said that the 21
st
century will be (is) the age of biology; much like the previous century was for physics. New discoveries are occurring and biological information is growing both in size and complexity at an exponential rate. A major factor fueling this growth is the plethora of technologies available to the modern biologists in their quest to uncover the very basic molecular mechanisms of life.
Among such tools, the discovery and use of fluorescent (light emitting) proteins, has proved to be a major boon for scientists investigating activities of genes and proteins inside cells. Fluorescence is an optical phenomenon, where a molecule absorbs photons of a particular color and thereafter emits photons of a different color - with the emitted color always red-shifted. While this phenomenon had been observed in living organisms, the molecules involved in the luminescence were unknown till the 1960s. In '62, Osamu Shimomura, a Princeton scientist investigating the phenomenon of bioluminescence, isolated a light-emitting protein from the jellyfish, Aequorea victoria, in the Padget Sound area of Washington state. This protein, named aequorin1, produced blue light – but only in presence of calcium. However, as a footnote in the publication of this discovery, Shimomura and co-worker mentioned "….a protein giving solutions that look slightly greenish in sunlight through only yellowish under tungsten lights, and exhibiting a very bright, greenish fluorescence in the ultraviolet of a Mineralite, has also been isolated…". It was soon found that this 'other protein' was involved in absorbing the blue light from Aequerin and emitting the green light observed in the jellyfish. It was named appropriately, even if perhaps a little unimaginatively, the
green fluorescent protein (GFP).
The jellyfish, Aequorea victoria, on the left and green bioluminescence observed around the margin (note the picture on the left does not show fluorescence !)

However, it took another thirty years before the GFP became the almost ubiquitous cellular and molecular biology tool it is today. In 1987, Doug Prasher, then at the Woods Hole Oceanographic Institute, discovered and was able to make a copy of the DNA sequence within the jellyfish gene that encoded for GFP. He did not, however, succeed in making a glowing protein from the DNA sequence in the lab. Subsequently, Prasher sent his sequence to a researcher at Columbia, Marty Chalfie who was able to produce the protein in bacteria - a
typical trick used by biologists to make proteins. As shown in the figure on the right from Chalfie's work, the bacteria containing the genes for GFP (on the right side of the plate) emits green light under illumination with ultaviolet lamp (it was a graduate student doing rotation in Chalfie's lab that actually performed the work and made the discovery!). This seminal work, published in 1994 in the journal Science, led to 'an explosion of color' in the biological world. Subsequently, other researchers showed that the GFP could be produced, alone or in tandem with other proteins in a variety of organisms.
Over the last decade, a great deal of research has contributed towards understanding the underlying physical mechanisms of GFP's light emission2 and importantly, towards improving its properties through genetic manipulation. The leader in this field has been Roger Tsien, who along with co-workers demonstrated that making small changes, such as replacing a few amino acids in GFP could make it glow brighter, mature faster and prevent aggregation of the protein inside cells. His group has also succeeded in tuning the absorption and emission of the original GFP through mutagenesis, leading to a veritable palette of fluorescent proteins that absorb and emit light through the entire span of the visible light spectrum (see below). Additionally, a Russian scientist, Sergey Lukyanov, used the GFP sequence as a 'bait' to search for novel fluorescent proteins in corals and succeeded in finding several GFP-like proteins, particularly a red-emitting fluorescent protein, dsRED from Anthozoa, which is also used widely.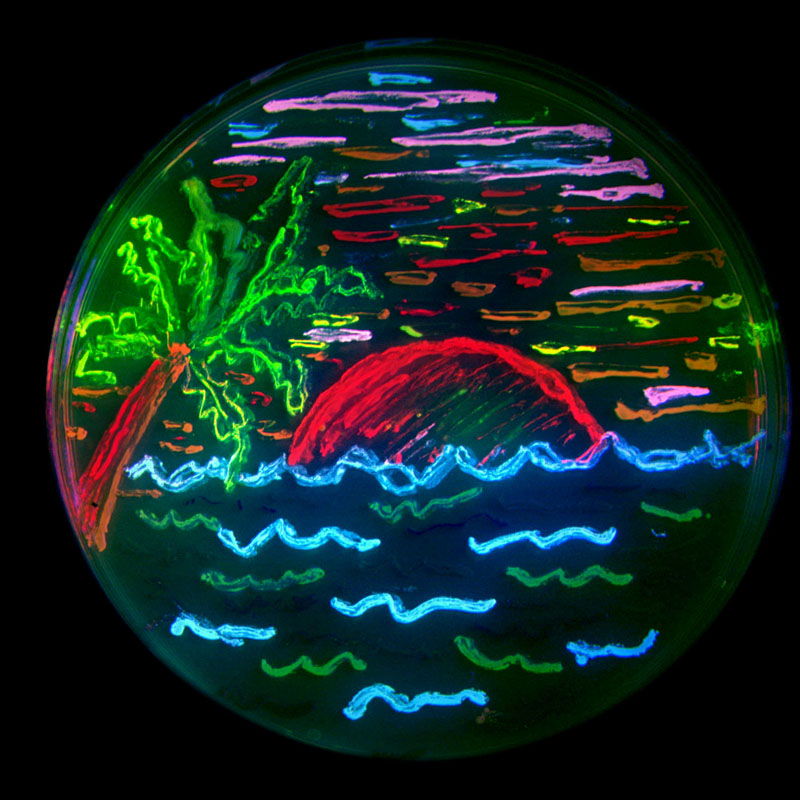 Panel on top shows the fluorescent protein 'palette' developed by Tsien lab - note range of colors and the fruity names. On the left, artwork with bacteria expressing various colors of fluorescent protein.
The major advantage of GFP is that inside a living cell, it can emit light on its own without the help of another protein or other chemicals. It is also possible by using molecular biology techniques, to attach the DNA of GFP to the DNA of the protein of your choice to produce a recombinant DNA. When the information from such recombinant DNA gets translated into a protein within the cell, a tandem protein is created with the GFP unit hanging from the protein. Importantly, since the size of GFP is relatively small, in most cases it does not interfere with the regular functions of the protein it is attached to.

In the simplest of applications, after shining light on the cells, the total amount of fluorescence obtained from the cells provides a measure of the level of expression of the protein tagged with GFP. However the more useful applications involve cells placed under microscopes with high magnifying power (40x to 100x) in conjunction with either arc lamps or lasers for
bright illumination and high-resolution detection devices such as CCD cameras for
capturing images of the emitted light. In these cases, we can literally see where the protein of interest is located, or illuminate a particular subcellular structure. For example, the figure on the right shows the mesh of protein network that act as a 'skeleton' (in fact it is called the 'cytoskeleton') in majority of cells in higher organisms. A protein called 'actin' that is involved in this scaffold has been tagged with GFP.

It is also possible to tag two or more proteins in the cells with different fluorescent colors (see the fluorescent protein palette above) and follow their localization or movement in cells. This helps in noting where two proteins are localized
during a cellular function. In the figure to the right, the protein actin is now tagged with a cyan emitting fluorescent protein (CFP). Another protein, vinculin, has been tagged with a yellow fluorescent protein (YFP). You can observe that the YFPs are localized as small elliptical structures at many places. These are called focal adhesions, which form a link between the cell cytoskeleton (in cyan) and its extra-cellular matrix. This interaction help cells to adhere and eventually move about in a tissue.
(in a future post, I will talk about a technique involving fluorescent proteins of two colors which is used to determine if two proteins interact with each other inside a cell)

Perhaps the most powerful application of fluorescent proteins is when you combine microscopy with time lapse video images. In such cases, it is possible to observe
where
and
when
the translocation of the protein in cells is taking place under a biological condition. For example, see a video
here
of a cell moving around with a protein involved in the focal adhesion tagged with GFP.
Visualization of protein location and dynamics in this manner enable scientists to place cells under various physiological conditions and observe the resultant phenotype of the protein behavior. Before the advent of GFP, scientist had to destroy the cells and use other tedious biochemical techniques to obtain similar information. Even then real-time data acquisition was not possible.

A quick search of the database will reveal more than ten of thousands of peer-reviewed publications where fluorescent proteins have been used to study protein functions at the cellular level. In most of these cases, research was conducted with either unicellular organisms or cells derived from tissues of mammals. However, apart from single cells, fluorescent proteins are also being used at the tissue and even the whole organism level. The picture below shows an example of a research which is investigating the movement of neurons (labeled with GFP) in the cerebral cortex.

A more well-known example of GFP in whole organisms, is the development of 'fluorescent mice' by the company
Anticancer Inc
. It is easy to follow tumor progression and cancer metastasis in such mice. Also, a Taiwanse reasearch group recently created '
fluorescent pigs
'. Stem cells or organs from these pigs when transplanted into other organisms can be followed easily without requiring invasive techniques.
Animal Farm: fluorescent pigs and mice.
More examples of such applications of GFP can be found
her
e
. Apart from these animals,
'Alba' , the fluorescent rabbit
and
fluorescent aquarium fishes
are two examples of more esoteric application of this scientific technology.
On a final note, betting markets for the Nobel Prize (yes they do exist !), were predicting this year's Chemistry Nobel to go to Roger Tsein and others for their work on fluorescent proteins. It eventually went to
Roger Kornberg for his work on DNA transcription
. Considering the importance of fluorescence proteins and their wide-ranging revolutionary impact on biology, it is not far-fetched to think that the Nobel is not beyond the grasp of these researchers.
Notes:

1. Aequorin itself has been very useful for visualizing cellular calcium concentrations, the regulation of which is important for a number of physiological activities.

2. Without going into great details about physi-chemical mechanisms of GFP fluorescence, suffice to say that the protein has a barrel-like structure (see below); within the barrel, three critical amino acids are brought together in close spatial proximity, which forms the chromophore.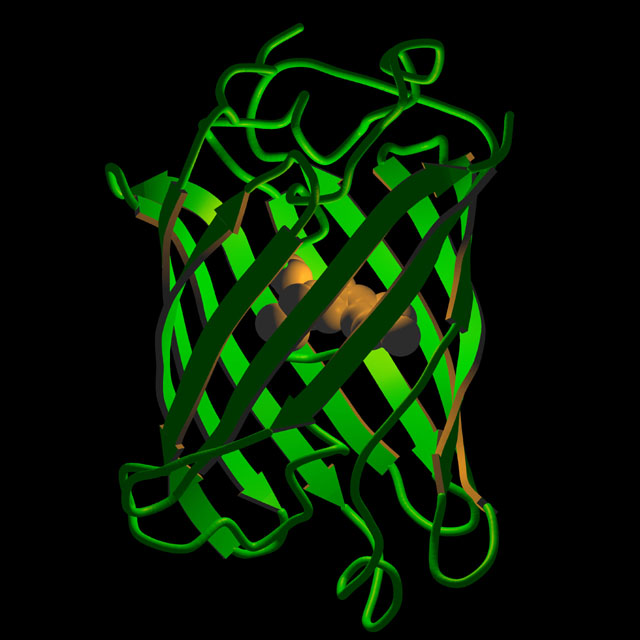 Artistic rendition of the three-dimensional structure of GFP.
3. All images have been linked back to their original web-page.

4. Recommended further reading: This web-site is a very good resource for learning more about GFP's discovery, structure and applications. Also read this interview with Dr. Martin Chalfie.



Coming up: "Much to fret about ": on a technique known as fluorescence resonance energy transfer that enables biological distance measurements, detection of protein interactions, and can be used to look at protein functions at a single molecule level !